Yes, we show apartments on Saturday and Sunday! If you see a unit that interests you, call the number in its listing below any day of the week!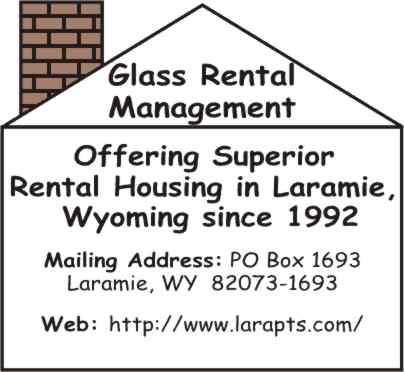 Laramie Apartments and Houses for Rent
Want to rent a house or apartment in Laramie, Wyoming? We're now taking applications for the Laramie rentals listed on this page. All are in good neighborhoods and have lots of upgrades and amenities. All of these Laramie apartments and houses are owned, managed and maintained personally by us. No absentee landlords, third party managers, agents, or faceless corporations here! We try to maintain the nicest and most economical houses and apartments in Laramie, and we were the first rental managers in town to provide complete rental information (including rents, availability dates, and actual pictures of the units) right here on the Web. We want to be the best possible site to visit for Laramie apartment rentals. If you're interested in renting one of the Laramie apartments or houses you see here, see How to Lease below. If you have pets, be sure to read our pet policy as well. If you drive by one of these properties on your own to view the building or the neighborhood, please do not disturb the tenants! Instead, make an appointment as described in the How to Lease section. If you are searching for a place for someone other than yourself, please have that person read this page before he or she calls.

Rent early for fall

Coming to Laramie in the fall? If so, don't wait until the very end of summer to rent. All of the best apartments for rent in Laramie are available in spring and early summer, and rents increase and the selection narrows as fall approaches due to demand from incoming University of Wyoming students. If you start your lease sooner, you may actually save money over the course of the year. Rents will soon rise by at least $5 per 2 bedroom apartment due to a new school tax, so it will pay to lock lower ones in early. You'll probably get a better unit, too, and moving will be more convenient. because your unit will already be waiting. You'll also have space available to sleep in when you visit and/or for summer storage. We offer lower rents during the spring and early summer as an incentive. Snatch up our spring listings early... they go fast!

List of Available Units (Listed by availability date, then by size)
We give tenants with good records a chance to renew until 45 days before their leases expire. So, the best time to check this site is roughly 45 days before you would like to start renting. We always list everything that we know will be available within the next 4-6 months on this page, and we can't predict availability beyond that. We also remove units from the list, or tag them as rented, within an hour of leasing them. So, what you see here is what we have in inventory.
Please
do not call or write to ask us if we have any units or types of units that are not listed below. Also please do not call or write to ask if we have, or anticipate, any vacancies that are not listed, or whether a unit that is listed here is really available. (It would not be listed if it were not.) Also, please note that we cannot hold a unit open and unrented for later rental. We must rent from the availability date listed below (or, if the unit is listed as being available "Now," as soon as possible). To make this page load faster and work better on mobile devices, we've linked to the photos rather than embedding them in the page itself; just click on the links in the descriptions to see them.
All of our leases must end in the summer, so availability is limited during the winter months. However, we occasionally have winter vacancies due to emergency situations. If you can't find what you need here, or if we have nothing available at the moment, we recommend that you check the listings in the local newspapers.

AVAILABLE FALL 2023 - SPRING 2024

Address
Bedrooms
Baths
Furnished?
Description and links to photographs
Lease term
Rent

We're sorry, but we currently have no vacancies. We normally list units 30 to 45 days before they are available, with new leases starting during the period between May 15th and August 15th. (There are, very occasionally, vacancies at other times due to emergency move-outs.) When tenants let us know whether or not they will renew, we will post any units available for rent on this page. In the meantime, we recommend that you check with online advertising sites such as

Craigslist

to find available housing in Laramie.
About Utilities
When you compare rental units, don't understimate the value of a unit that rents with utilities -- especially heat -- included. As
NOAA's normal temperature graph for Laramie
shows, the temperature in Laramie drops below freezing each night for more than half of the year. Natural gas prices have increased, and the local electric utility, Rocky Mountain Power, continues to increase rates. And as if the cost of the energy itself weren't enough, the State of Wyoming adds 6% sales tax and the City of Laramie tacks on a franchise fee, which just increased.
As a rule of thumb, if you rent a unit without utilities included, you can expect the total cost of utilities to average about 40% of your rent from October to May (most of the year) and 20% during the summer months. Be sure to take this into account when comparing units that include utilities with units that do not.
If you rent one of our units which includes gas and/or electricity, we assume the risk of
all
energy price fluctuations. We save you money on gas and electricity by estimating how much everything will cost and dividing the costs up between the units in each building according to square footage and estimated hot water usage. The amount you pay is the same every month (no surprises!), and you don't need to undergo multiple credit checks, deal with several monthly bills, or pay hundreds of dollars in deposits to the gas and electric companies to get service. When we provide heat, we do it via a single, energy-efficient heating system that serves the entire building. We will even provide you with energy-saving bulbs for your own fixtures. (They're just as bright as regular bulbs, but use less electricity; this helps us to keep the energy component of rents down.) We make no profit from included utilities; any savings we're able to realize go to you, the tenant, in the form of lower rents. The only things you pay for yourself are your own phone, cable TV (if you decide to subscribe), and Internet if it is not included with your unit. There may be a small electricity surcharge if you have a waterbed (yes, we allow them so long as they have liners).
Location, location....
The area surrounding the University of Wyoming is one of the best places to live in Laramie, whether you're associated with the University or not. All of our units are in quiet residential areas within easy walking distance of UW, Historic Downtown Laramie, and shopping.
If you are a student, staff, or faculty at UW, you'll be especially glad to know that all of our units are closer to the University of Wyoming Classroom Building than any of the University's own dormitories or apartment complexes. Being able to get to campus quickly without driving is a key requirement, because the University has eliminated the 179 convenient parking spaces which once surrounded Prexy's Pasture (the main quadrangle that contains most of the school's academic buildings) and adjacent to the Classroom Building. It has also eliminated parking to build a new Information Technology facility near the Fine Arts building, to add space to buildings near the Wyoming Union, and to build new buildings on the north side of campus. This has created an acute shortage of parking on and near campus. A promised parking garage is finally being built, but spaces will be limited and expensive.

Commuters driving to UW are forced to park in distant lots far east or south of the core campus, or to pay for the privilege of parking in closer ones. "Express" shuttle buses deliver passengers from the eastern lot (but, ironically, not the paid lots) to only two locations on campus: the Union and the Classroom Building. (You may wait as long as 15 minutes to catch the one that goes to the Classroom Building -- and this doesn't include transit time.) There's another shuttle route that goes to more locations from the eastern lot, but it takes a full 30 minutes to circle campus. The southern lot has only one bus route, which runs only to the Union and not to the Classroom Building. And the buses to the southern lot stop running at 6 PM.

UW has also raised fees for parking permits to unprecedented levels. (Faculty and staff members asked the University for a reduced rate for employees with salaries less than $30,000 per year, but the University refused.) This means that many of these employees will contend with students for on-street parking near campus. Another surprise: Previously, parking permits weren't required during the summer when the campus is not crowded. But under its new policy, the University requires them all year long.


Finally, the lack of much needed on campus parking infrastructure has driven students, faculty, and staff to hunt for parking on the streets surrounding campus, causing problems for the residents of those neighborhoods. Worse still, the City has decreased the number of spaces available on local streets by painting "yellow zones" at intersections of arterial streets, prohibiting parking within 20 feet of those intersections. This, plus requests by many residents in those areas for permit parking zones in front of their houses, means that commuters who try to park on the street near classes will have a difficult time finding a spot.


Bottom line: If you're at UW, it truly pays to live close by and bike or walk to avoid the parking crunch... and that's where we can help. All of our units are a short walk to campus. In fact, every one is closer to the UW Classroom Building, the Pharmacy School, and many other UW academic buildings than UW's own dorms. They're also easy walking distance from groceries, the Laramie post office, downtown, video rental, and a wide variety of restaurants (burritos, bagels, pizza, coffeehouses, and more). Rent with us, and you won't have to worry about University or city parking policies.

How To Lease (Please read!)
If you're interested in renting one of these units, please fill out a
rental application
. Click
here
, print the page, fill it out, and bring it when you come to see the unit. You can also FAX the completed, signed application to us; call for a FAX number if you'd like to do this. We need an application for each adult who will be living in the unit,
even if you are married
. (This is due to Wyoming state law. Wyoming is not a community property state and treats married couples as separate individuals for the purpose of finances, contracts, etc.) For the same reasons, every adult who is to be living in the unit must be named on, and sign, the lease.
We must deal with the actual people who will be signing the lease -- not a parent, friend, or any other intermediary.
If the unit is to be occupied by more than one roommate, please try to agree on a time when everyone who will be signing the lease can come for a tour before you call. It is much easier to process applications for roommates if all of them come together, with applications, to view the unit.
We believe that no one should rent any apartment without physically seeing it. We prefer to meet prospective tenants in person, shake their hands, and get to know them before sitting down to sign a lease. This also helps us to avoid Internet rental scams, which are becoming increasingly common. So, please have all adults who are to live in the unit visit it with us, turn in applications in person, and be available to meet with us and fill out the paperwork.

We pride ourselves on being attentive, tenant-friendly rental managers and taking good care of the properties we manage; after all, our tenants are our neighbors! We advocated the passage of the new Wyoming Landlord/Tenant Act when many landlords opposed it. We always require a lease, as this protects both you and us. Our leases are written in plain English with no "fine print." The security deposit is equal to the monthly rent. We ask that you pay the security deposit on or before the date when you sign the lease, and the first month's (or partial month's) rent upon occupancy. (Unlike some Laramie rental managers, we don't ask for the last month's rent until the beginning of the last month.)
Due to market conditions in Laramie, all lease terms must end between May 15th and August 15th. We regret that we cannot sign a lease that ends outside this period. All leases must have a fixed term; we cannot rent month-to-month.
Each of our units contains a range and refrigerator. Our 1-bedroom units do not have laundry equipment or hookups within the unit, but all have laundry facilities nearby. Those with 2 or more bedrooms have laundry equipment (not just hookups!) within either the unit or the building. If a unit is rented "unfurnished," it contains no furniture other than permanent cabinets and shelves. (For scale, and to give an idea of how they typically look when furnished, most of our units are pictured with furniture.) If a unit is rented "furnished," it contains a full complement of furniture but not hotel-like amenities such as linens, dishes, and silverware. If you rent a furnished unit, please expect to use the furniture that's provided. Due to limited storage space and the difficulty of moving furniture around, we can't remove furniture from a furnished unit.

We favor quiet, serious tenants who do not create disturbances or violate laws or ordinances. Wyoming law makes it a crime for a rental manager or owner to allow underage drinking or use of illegal drugs on the premises. Therefore, our lease does prohibit large, noisy or open parties, gatherings at which minors consume alcohol or illegal drugs, or illegal activity of any kind. The lease also prohibits noise which can be heard outside the unit after 10 PM. We reserve the right to limit the number of occupants per square foot, per bath, and/or per unit, as per our occupancy standard, to avoid overcrowding and to conform to Laramie city ordinances.

For more information, or to arrange to see a unit by appointment, e-mail us from the
mail page
. This is often even faster than calling on the phone! And always check this page for the latest information on rental availability.
Our Pet Policy
Due to problems with noise, damage and high maintentance costs, we have been forced to stop accepting uncaged pets such as cats and dogs -- even "visiting" ones -- in our units. Past problems have forced us to be very strict about this. Bona fide, trained service dogs used by blind and/or disabled individuals (e.g. Seeing Eye dogs) will be allowed on the premises unless the unit in question shares a ventilation system with other units (in which case allergens would spread throughout the building and could sicken a resident who was sensitive to them). Note that an "emotional support" animal, also called a "therapy animal," is not legally a service animal. It will not be accepted unless it is medically necessary and peculiarly suited to ameliorate the unique problems of a mentally disabled individual (as per
Prindable
). We usually receive several fraudulent requests to allow such animals each year, so to accept such an animal, we must be presented with a Letter of Prescription from a Wyoming-licensed physician. (We will not accept certificates from one of the many Internet-based "certificate mills," none of which are Wyoming-licensed doctors. Many of these advertise themselves as a means of circumventing pet policies.) The doctor's Letter of Prescription must certify that the animal is an integral part of an ongoing program of therapy to assist in alleviating the symptoms of an individual's disability. As with service dogs, "emotional support" animals cannot be permitted in a building with a ventilation system that is shared between units, because allergens would spread to other units through the ventilation system. As of 2017 it is a misdemeanor, under Wyoming law, to knowingly and intentionally misrepresent that an animal is a service or assistance animal.
We do allow some animals that are permanently confined to a cage or tank and do not generate airborne allergens, provided that we know that they'll be there, approve them, and note them on the lease. (We wouldn't want to turn off the power to do repairs, for example, without knowing that a tank of tropical fish depended upon the electricity to survive.) In some cases, we may require the floor around the cage or tank to be covered to prevent damage to floor coverings. However, we must know about all pets and grant written permission for a tenant to harbor them.


Unfortunately, if you have multiple uncaged pets, you will have difficulty finding a rental unit that is in good condition in Laramie and should probably consider buying instead. Housing prices are very reasonable in Laramie, so you will likely come out ahead financially -- especially if you expect to live here for two years or more. We're not licensed real estate brokers ourselves, but we know the local real estate community and can help you locate a reputable seller's or buyer's broker.
---
Questions? Comments? Please let us know!
Questions? Comments? Anything we left out? Please e-mail us from our
mail page
. (You don't need to be at your own computer to send us mail.) Again,
please
do not call or write to ask us if we have, or anticipate, any properties or vacancies that are not listed above, or whether a unit that is listed here is really available. If we know that a unit will be available, it will be listed on this page.
--Brett Glass, Laramie, WY
---
| | |
| --- | --- |
| | The Fair Housing Act prohibits discrimination due to race, color, religion, sex, national origin, disability, or familial status. |
| | |
| --- | --- |
| | We care about accessibility! The straightforward (in fact, downright plain) design of this page includes no scripts at all and only very simple tables. It is intended to make it easy to read via the "screen readers" and text browsers used by the blind and the visually impaired, as well as by mobile devices. It has been approved by Version 3.1 of Bobby, a web-based tool that evaluates the accessibility of Web pages to people with disabilities. |
We're members of R-PAL (Rental Property Association of Laramie)
Promoting high quality, ethically managed rental housing in Laramie, Wyoming
| | |
| --- | --- |
| | Listed in the RentSearch.com directory of rental housing |
---
The laramie-apartments.com Web site contains no trackers, Web bugs, scripts, or spyware. It has minimal graphics on the pages themselves (all photographs of properties are available via links in the descriptions) to ensure that it loads quickly. It does not plant cookies on your computer or try to make money from your visit by reporting your browsing habits to third parties. We respect your privacy!

---